Details:
eXact iDip 570 Photometer
Cleaning brush
Instruction manual
Free downloadable app with pre-installed tests: pH, Free Chlorine, Total Chlorine, Total Alkalinity.
Additional test parameters will need to be purchased and downloaded in-app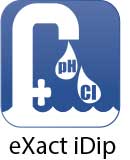 The exciting new eXact iDip 570 Smart Photometer System® is the second installment of the eXact iDip line designed using a 570 nm wavelength light source.
The iDip is the only handheld photometer family to provide 2–way communication with a Bluetooth Smart (4.0) ready Apple or Android smartphone/tablet. The eXact iDip 570 photometer is waterproof (IP67) and incorporates a permanent built-in sample cell which eliminates loose parts, streamlines the test procedure and improves accuracy
. The multilingual eXact iDip app is the brain of the system which allows for instantaneous software updates/upgrades, test customization, and mobile sharing of results with spreadsheet!
It comes with 4 tests installed with over 35 additional parameters are available for in app purchase, making the eXact iDip a truly customized experience that saves users hundreds of dollars!